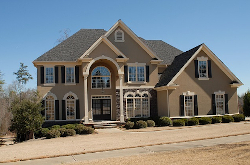 Many Americans like the idea of big, open spaces. So it might not be surprising that houses built in the United States are among the largest worldwide.
The size of the average American house is more than 100 percent bigger than it was in the 1950s. In 2019, the National Association of Homebuilders reported that the average size of a new single-family home was 240 square meters.
Information from that organization suggests that the size of new homes has gone down a little over the past five years. But over the long term, the average size has generally risen.
Louis Hyman is an economic historian and assistant professor at Cornell University in New York State. He says Americans' strong feelings about their homes may be tied, in part, to the country's past.
"The appeal of the house for Americans, going back into the 20th century, was that it signified autonomy," Hyman said. He added that home ownership has been a sign of independence.
The federal government has taken steps to support the idea of a nation of homeowners. The Federal Housing Administration (FHA) was formed in 1934, during the presidency of Franklin Roosevelt, to make it easier for Americans to own a home.
By creating the financial mortgage system that is still in use today, the FHA made home buying possible for millions of families.
The U.S. Census Bureau reports that, in 1934, about two in every five householders owned their home. By 2001, the homeownership rate had risen to 68 percent.
In the 1940s, Roosevelt compared homeownership with citizenship. He said that a "nation of homeowners, of people who own a real share in their own land, is unconquerable."
Today, the homeownership rate is about 65 percent. Investment in homes has covered up the effects of low real wage growth for many Americans.
Unemployment remains near record lows. But real wages have not grown much in recent years. Economists use real wages when they study the effects of inflation on the value of money over time.
In a report, the Pew Research Center suggested that real wages have changed little in the United States since 1964.
Hyman noted that Americans started investing in homes after the 1970s, which was a period of high inflation and economic problems.
"The houses became a way for average Americans to get financial leverage, which can multiply their returns," Hyman said.
For many Americans, owning a large home is a status symbol. They may feel that a big house is physical proof that they have succeeded in life, notes architectural historian William Richards.
He added: "This kind of classical example of the big suburban home has been a very powerful idea for many, many decades now."
And big houses are less costly than they used to be. "In the design and construction, there are greater efficiencies now for all sorts of reasons so that it's less expensive to build a bigger house now," Richards said.
But do bigger houses make people happier? Not necessarily says Clement Bellet of the European business school INSEAD. He wrote about the issue as part of his university studies.
Although single-family houses have become larger since the 1980s, "house satisfaction has remained steady in American suburbs," Bellet wrote.
Bellet added that people living in larger houses often are more satisfied with their property, but their satisfaction can disappear when even bigger houses are built nearby.